You now have the ability to store your medical information on your iPhone. First responders are able to access your medical information without your phone being unlocked. They can see information like medical conditions, blood type, and allergies. There is even a link to your chosen emergency contacts who can be called from your mobile phone by someone accessing your medical ID – you can choose which information you would like to include.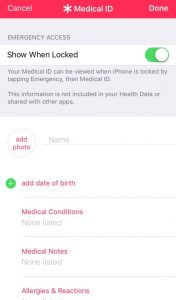 This can be set up via the Health App on your IPhone. See Instructions below:
Open the Health App and tap the medical ID tab on the bottom right hand side.
Fill in the details in the relevant sections
To make your medical ID available from your IPhone, turn on show when locked. This means that your medical ID can be viewed by someone when your IPhone is locked by tapping emergency, then Medical ID.
Don't forget to include your emergency contacts too.