On a recent Monday, we led an Emergency First Aid at Work Course (Level 3) in Marlow.
Held in a modern and light-filled venue, everyone enjoyed themselves and gave really positive feedback. More importantly, the learners left the session feeling confident that if an accident ever occurred they would be able to deal with it confidently.
Here is what one of the participants had to say:
"Attended a First Aid training course yesterday delivered by Faisal. What a brilliant day it was!! Valuable information and plenty of practical exercises ensured that we were able to really understand the theory and gain essential life saving skills…
Faisal is an excellent trainer, enthusiastic and experienced and professional…he conducted the session in a way which made it entertaining and fun…at the end I felt confident that I would be able to put my new found skills into practice if needed…
This course should be compulsory for everybody!!
Thank you Faisal…"
– L Lord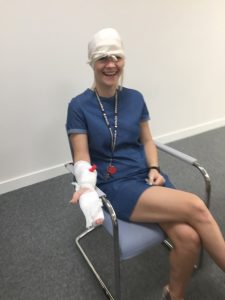 At the time of writing, our next Level 3 Emergency First Aid at Work Course in High Wycombe takes place on Thursday 13th September. We hold first aid courses throughout the year though, so check our first aid courses page for latest details.
Get in touch if you would like to book a place or learn more about what we offer to individuals and companies.
Please remember that we are also able to offer in-house training at a date and time that suits you. All you need to do is provide a room which is large enough to accommodate all the learners and suitable for carrying out practical exercises. We take care of the rest!